LEIPZIG
With outstanding architecture, vivid street art, and rich musical history, this German city has a great variety of sights that meet every taste.
CITY OF MUSIC
Leipzig has a great tradition as a city of music, a lively present and an international reputation. Important musicians such as Johann Sebastian Bach, Felix Mendelssohn Bartholdy, Edvard Grieg, Gustav Mahler, Clara and Robert Schumann worked here, Hanns Eisler and Richard Wagner were born here. The city is home to numerous authentic sites of the lives and work of these important musical personalities. Leipzig is home to internationally renowned ensembles such as the Gewandhaus Orchestra and the Thomanerchor.
​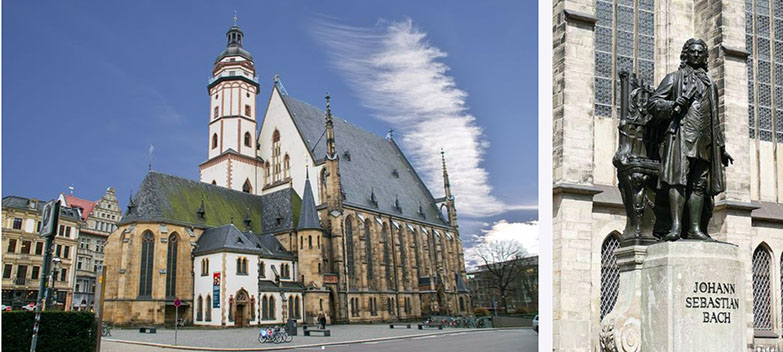 St. Thomas & Bach Monument
CITY OF TRADE
The Leipzig Trade Fair looks back on more than 850 years of history.
Right up to the present day, trade and the trade fair have determined the development of the city of Leipzig.
​

CITY OF FREEDOM
The Nikolaikirche Leipzig (St. Nikolai) became the symbol of the Peaceful Revolution in 1989. It is the place where developments took place long beforehand that triggered what is referred to as the "Wende" (turnaround) in the autumn of 1989.
But already from 16 to 19 October 1813, the so-called Battle of the Nations took place at the gates of the city of Leipzig. It led to Napoleon's defeat during the wars of liberation. The Monument to the Battle of the Nations in the south-east of Leipzig was erected in memory of the Battle of the Nations according to designs by the Berlin architect Bruno Schmitz and inaugurated on 18 October 1913.
​
St. Nikolai & Monument of the Battle of the Nations
CITY OF CULTURE
Leipzig has a lively, diverse independent arts and culture scene. It benefits from the city's rich cultural traditions and creative freedom as well as from culture funding. In Leipzig, more than 50 museums and collections await your visit. Come here and find out!
​